While browsing through a magazine, I came across the idea of making Christmas gifts in a jar. So, I decided to investigate further on the Internet.
Although many Christmas gifts in a jar are available for sale, it would be much more fun to make your own!
Also, it would be good to recycle large jars that you already have for this project. To prepare them:
Soak them in hot water so that the labels come off.
Thoroughly wash the inside and outside of the jar and the lid.
Leave to dry completely.
If the lid has a logo or writing on it, cover it with a small piece of fabric secured with an elastic band or by sticking on pretty paper with strong glue.
Then comes the fun bit! Think of the person you'd like to give the gift to. What are their hobbies and interests? What kind of things do they like? You can then fill the jar with small gifts on the same theme.
For example, a Christmas gift jar for someone who loves sewing could contain:
A few patchwork squares or fat quarters of pretty fabric tied together with ribbon.
1 or 2 reels of thread in similar colors to the fabric.
A small 'roll-up' tape measure.
Buttons that would go well with the fabric.
Other small sewing accessories, such as pins, scissors and ribbon.
Once you've placed everything in the jar, write a gift tag, thread it onto a length of ribbon and tie it onto the jar with a bow.
When you've finished, it could look a bit like this: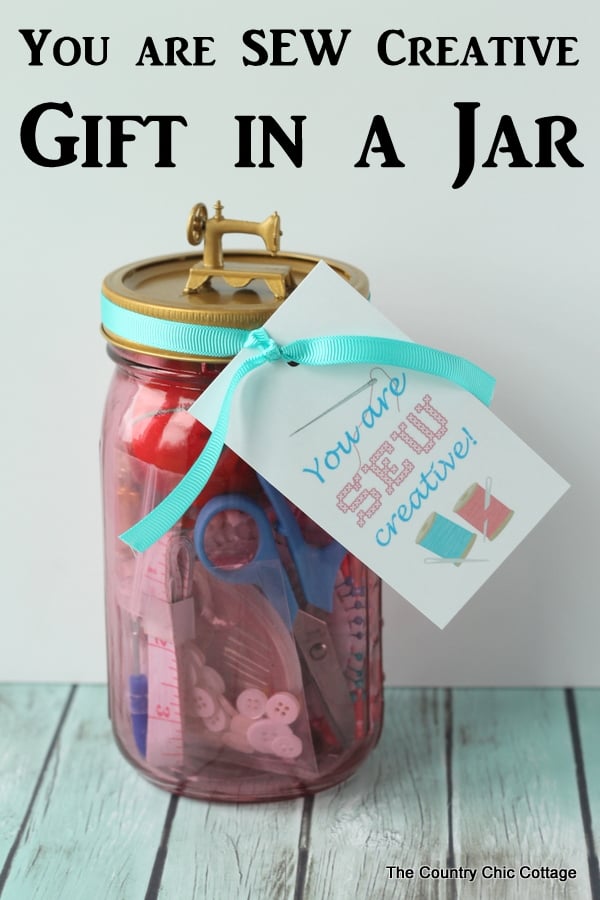 Other Christmas gifts in jars could be made for:
Make-up addicts - fill with small cosmetics such as nail polishes, lip balms, single eye shadows - my daughter would love this!
Bakers - jars can be filled with the ingredients you need to make cakes, cookies and other sweet treats.
Girls who like to (or should!) pamper themselves - add small bath bombs, body lotion, hand cream, etc.
The possibilities are endless!
I like this idea because:
You can make a very personalized gift for a special person.
You re-use and recycle glass jars.
You can be as creative as you like (you could also decorate the outside and the top of the jar if you wish).
You don't need wrapping paper, so you don't add to the mountain of paper waste created by Christmas!
The recipient won't receive another gift like it!
What do you think? Would you make and give Christmas gifts in a jar?